Description: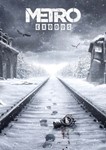 Immediately after payment and at a discount you get a key photo from the DVD-BOX of the Metro: Exodus edition

ACTIVATION IN EPIC STORE LAUNCHER.

PRE-ORDER BONUSES:

• Digital copy of the soundtrack
• Digital copy of the art book "The World of Metro".

🎁 How to get a GIFT 🎁

✅ Leave a positive review after the purchase with the words "Buy from Soft-Klub"
✅ As a gift, a key to an inexpensive, random steam game will be sent.
✅ The key will be sent within 48 hours.

Activation: Epic Store Launcher
Language: Russian, English
Publisher: Deep Silver
Activation region: Russia, Ukraine and the CIS
ACTIVATION IN EPIC STORE LAUNCHER.


*************************************************** ******

Metro Features: Exodus

- study. Before you open spaces of our vast country, which can be passed from edge to edge by train "Aurora". Do not be afraid to go beyond the boundaries of a safe car, because who knows, maybe you will not only find useful components in the wasteland, but also get to know people who also survived the disaster.
- survive. Outside the metro there are no less dangerous opponents. Mutants, bandits, crazy - find an approach to everyone, study, survive on nuclear open spaces with an impressive arsenal of weapons.
- Listen. Traveling all over Russia, you will meet many people and hear many stories. Plot Metro: The outcome will not leave indifferent either fans of the series or newcomers to the genre.
- Experiment. A non-linear adventure awaits you in the atmosphere of a new world destroyed by the war. The fate of Artyom and his partners depends only on you - your actions will affect what awaits them in the future.